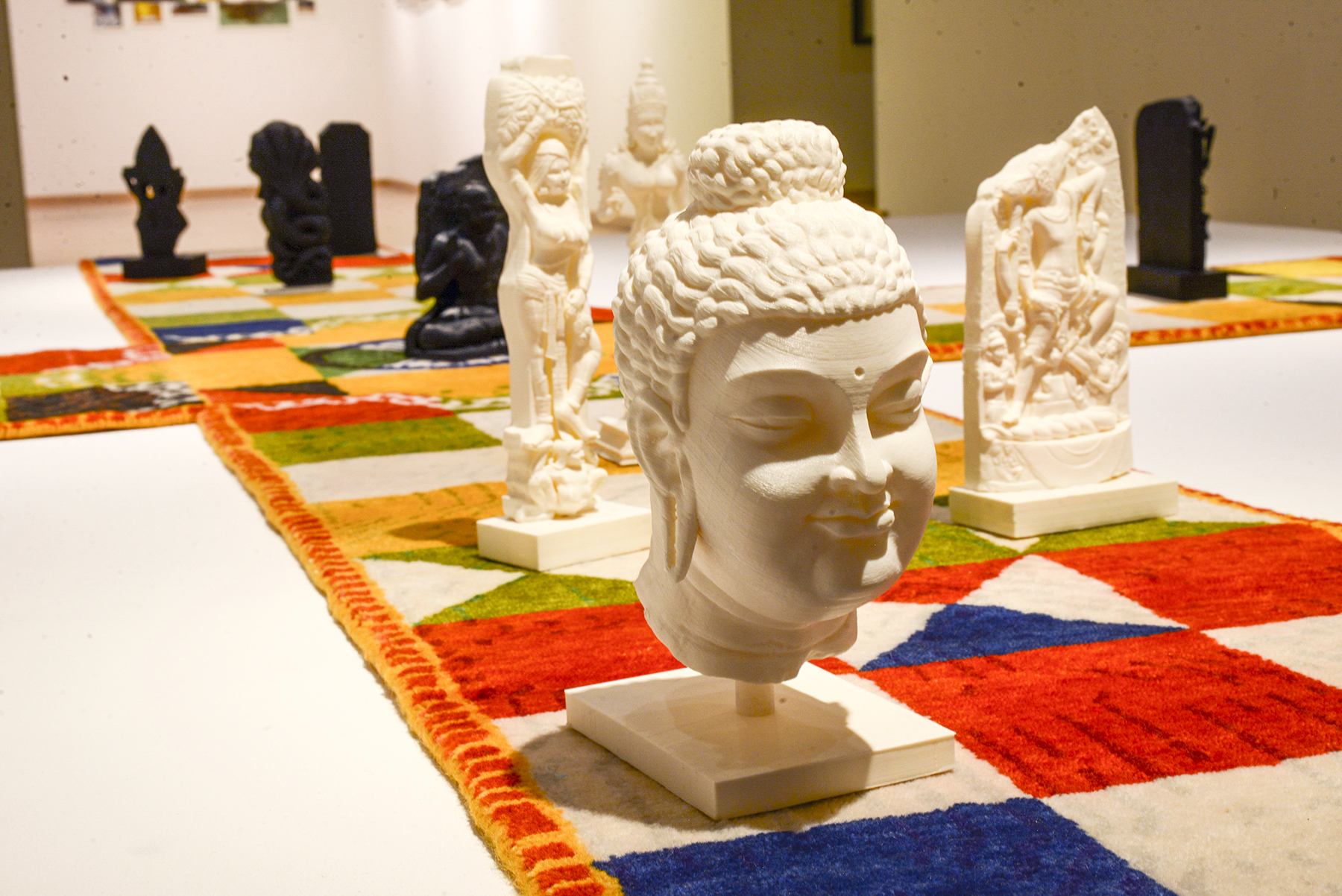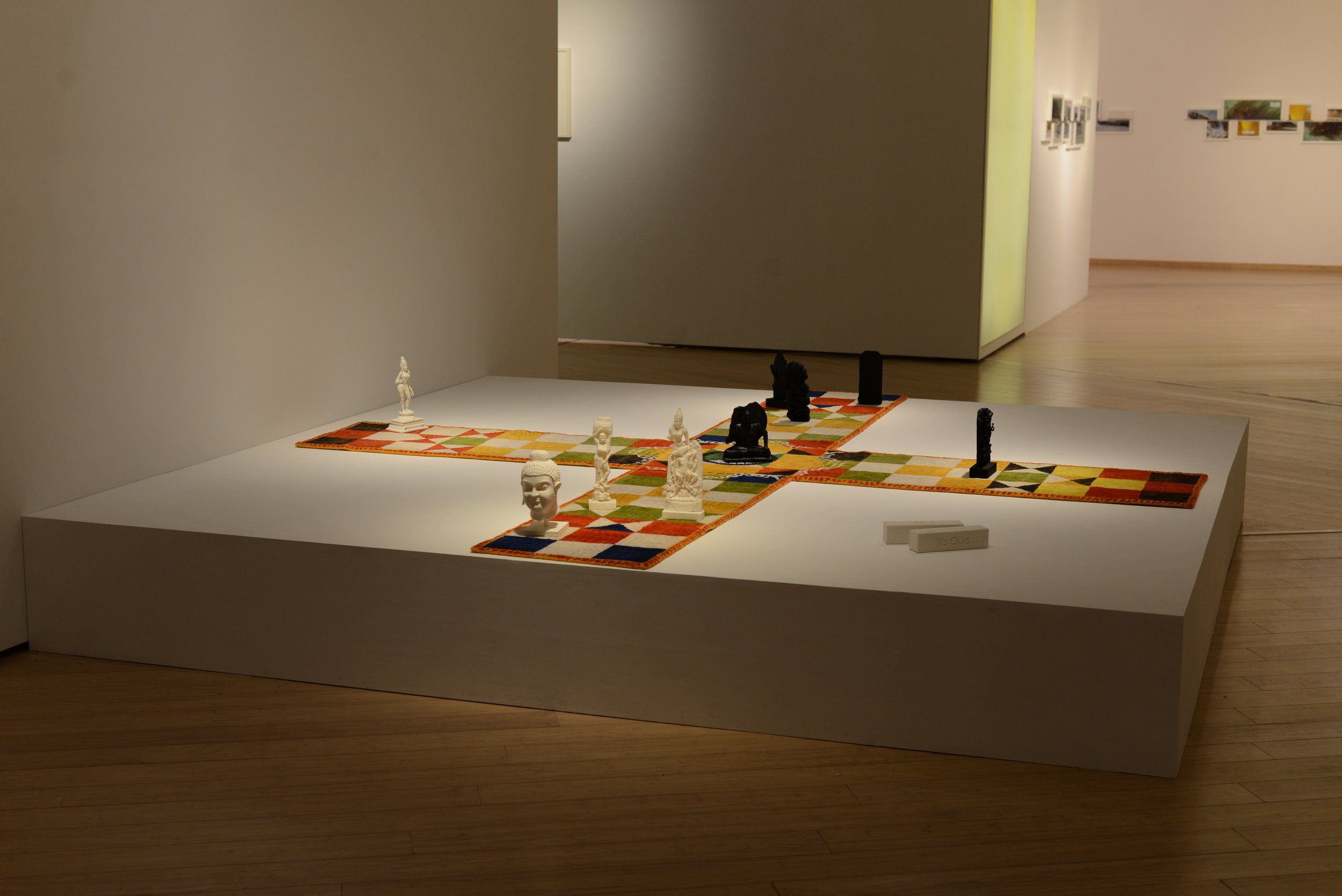 It's Mine; No It's' Mine; Now It's Yours; No It's Ours; Yes It's Missing. Handwoven tapestry with Wool, Dye, 3D printed sculptures with ABS plastic 10ft x 10ft, 10 sculptures of varying size.
The Constitution of India stipulates that it shall be the duty of every citizen of India to value and preserve the rich heritage of composite culture. We thus have a special responsibility for preservation of our heritage as one of our fundamental duties. Yet between 2008-2012, more than 2,208 sculptures and idols were looted from living temples across India. In addition, a recent report by the Comptroller and Auditor General of India notes that within the last ten years, 92 historic monuments have gone missing and are now "not traceable." Unlike what is happening in the Middle east, all this looting and iconoclasm happened during the time of peace.
In 2011, a joint team of Indian and American investigators arrested a New Delhi born and New York based collector and antiquities art dealer Subhash Kapoor and charged him with looting and smuggling more than 150 ancient sculptures and artifacts from India of an estimated price of $100 million. Sculptures sold through his gallery are now in collections around the world including the Metropolitan Museum in NY, the Cleveland Museum, the Art Institute of Chicago, National Gallery of Australia Canberra among many others. In addition, Kapoor himself, or through his surrogates, gifted hundreds of sculptures to such institutions that still lie in their permanent collection.
Were these exquisite sculptures ever Kapoor's to gift? Who has the right to gift an object that does not belong to the individual? Shaurya Kumar's work on display It's mine; No It's Mine; Now It's Yours; No It's Ours; Yes It's Missing alludes to a gamut of contemporary issues under the paradigm of gift and its offerings. His work playfully proposes that inherent to the idea of gift giving is the notion of a relationship, a forging of social, emotional, political and psychological bond between the exchangers that must be enforced by a self-perpetuating balanced reciprocity whether voluntary or otherwise. Kumar's work uses repatriation of 200 ancient Indian art objects and artifacts from U.S. President Barack Obama to Indian Prime Minister Narendra Modi during his recent visit to the United States as a symbol of gift exchange set on the premise of old Indian game of Chausar, often known for inherent manipulation and deceit. Blending together ideas of gift exchange, two way reciprocity, diplomacy, strategy and power, Kumar probes unsettling thoughts related to these iconic gifts, offered by powerful economies like the US, Australia, Germany and Singapore to India as a gesture of good faith, though the fate of these returned objects is yet to be known.
Responding to this idea of gift and counter-gift, Kumar's work is set on a handwoven tapestry that is symbolic of a conduit of return of valuable Indian artifacts from different countries represented by their flag colors back to home i.e. India. However, these gifts also play the role of a pawn in the hands of diplomats and people of power that is symbolized by their plastic like material, as their value is undermined by their purpose. Kumar's works have often addressed loss of aura when the original is transformed in its meaning and narrative due to transposition, marginalization and destruction. It addresses the new world of non-objects and questions the role of individuals and institutions that assign them their new meaning, often regressed and stripped of their original stature.
Lastly, Kumar carefully weighs resounding questions such as "Who defines history? To whom does the history belong? Who owns history? Is history Mine? No it's Mine! Now it's Yours." Through this satirical but playful work on display, he suggests the undercurrents of negotiations and counter negotiations of what belongs where and to whom, the fate of "lost and found" art objects and artifacts, and in a way the course of history itself, as decided by men of power and stroke of chance. There are no clear winners or losers but it's only a give and take – of gifts and its offerings in disguise – to be reciprocated in a different time and context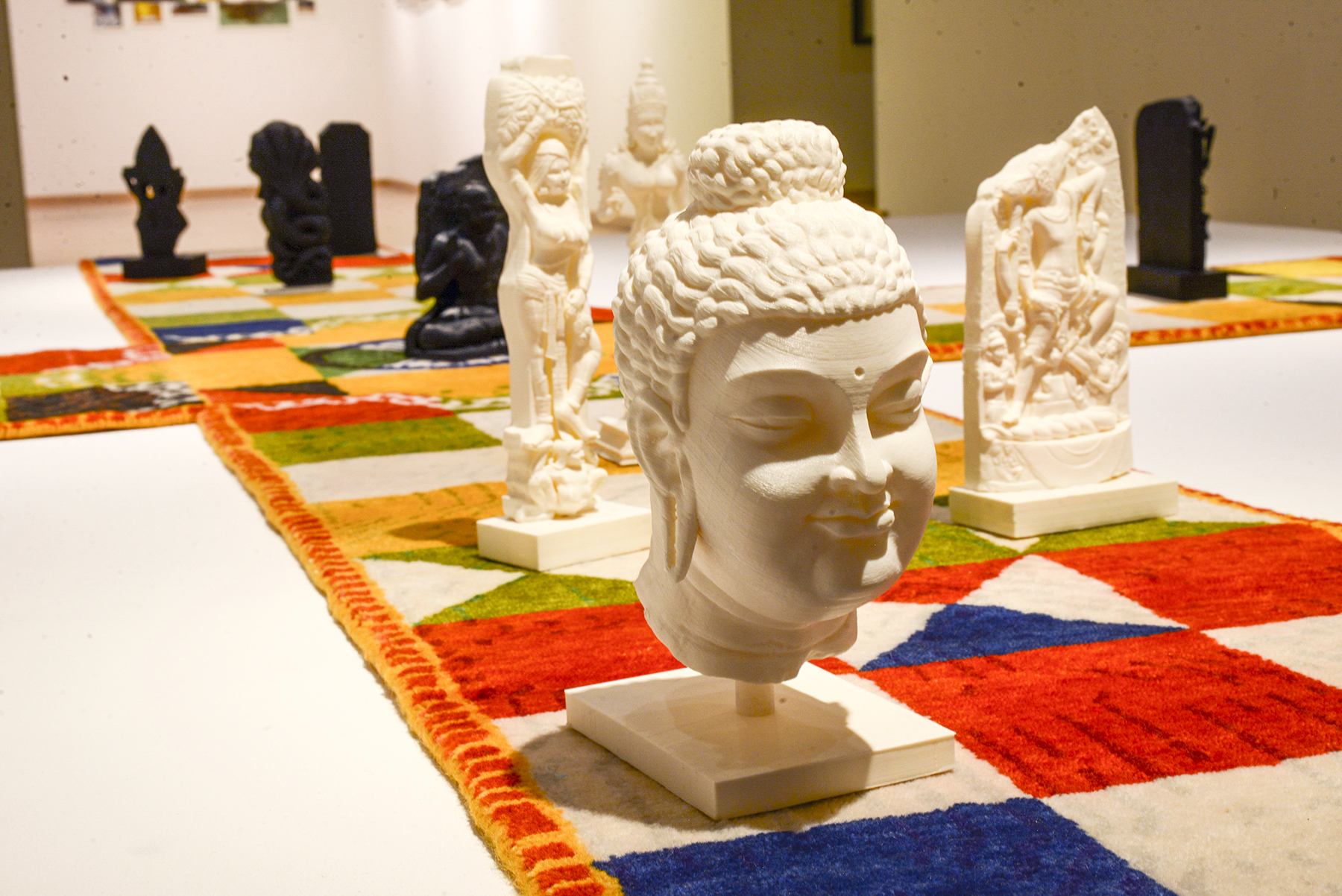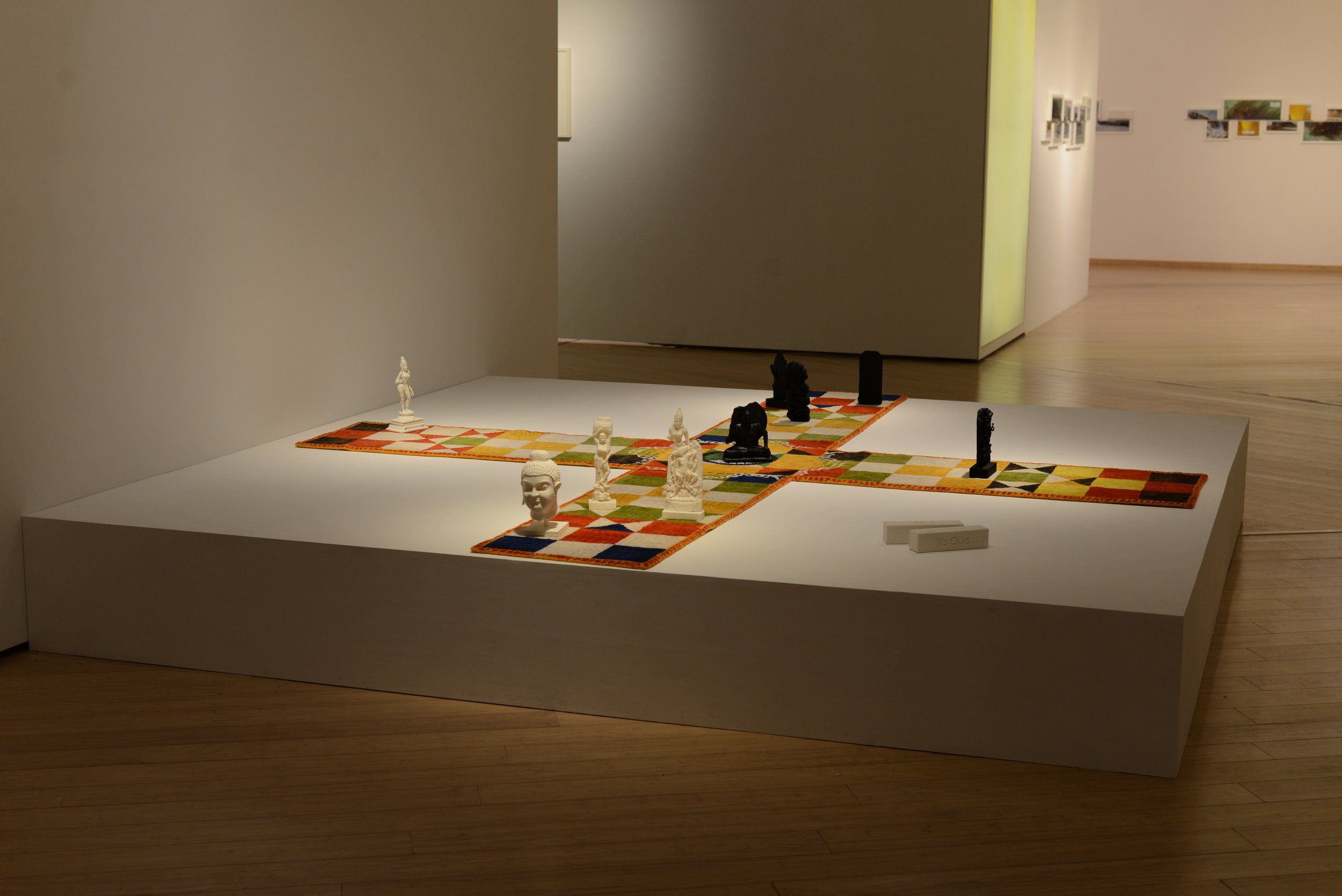 Pittu, High Density Foam, Handmade paper with Cotton and Abaca, Methyl Cellulose, Rubber, Wool Fleece, Thread, Caulk | 48" x 96" (stacked); Ball 30.7" diameter
In 2001, the monumental Buddha statues carved into limestone cliffs in Bamiyan, Afghanistan were destroyed by the Taliban. Mullah Omar, Taliban's leader at the time remarked causally, "All we are breaking are stones…," clearly a glib dismissal of cultural significance and a justification for iconoclasm.
Much of the artist's work, thought and research in recent projects has been a response to the contemporary state of ruinous affair. Reflecting on loss, destruction, iconoclasm and marginalization. The work addresses how our understanding of history, culture and religion is constantly reinterpreted and distorted. Indicating notions of presence and absence, these works play with architectural ruins transient ephemera, and contextual displacements. This work Pittu examines the facet of human intervention; acts that change history and the relationship with the sacred object. The work recreates and rearranges the fallen and discarded elements of 8-10th century temples in the complex of Qutub Minar in New Delhi into a common street game often played by children. In this sculpture, a child's game is evoked, where a stack of small stones is knocked over with a tennis ball and then rearranged. Architectural fragments replace the stones as if to remark that one culture "plays with" the remnants of a past culture it has supplanted.